This Blueberry Broccoli Smoothie is loaded with good-for-your-health fruits and vegetables that will give you the needed boost to make any day brighter! It is delicious and nourishing, and yet simple to make! Plus it's vegan and gluten-free.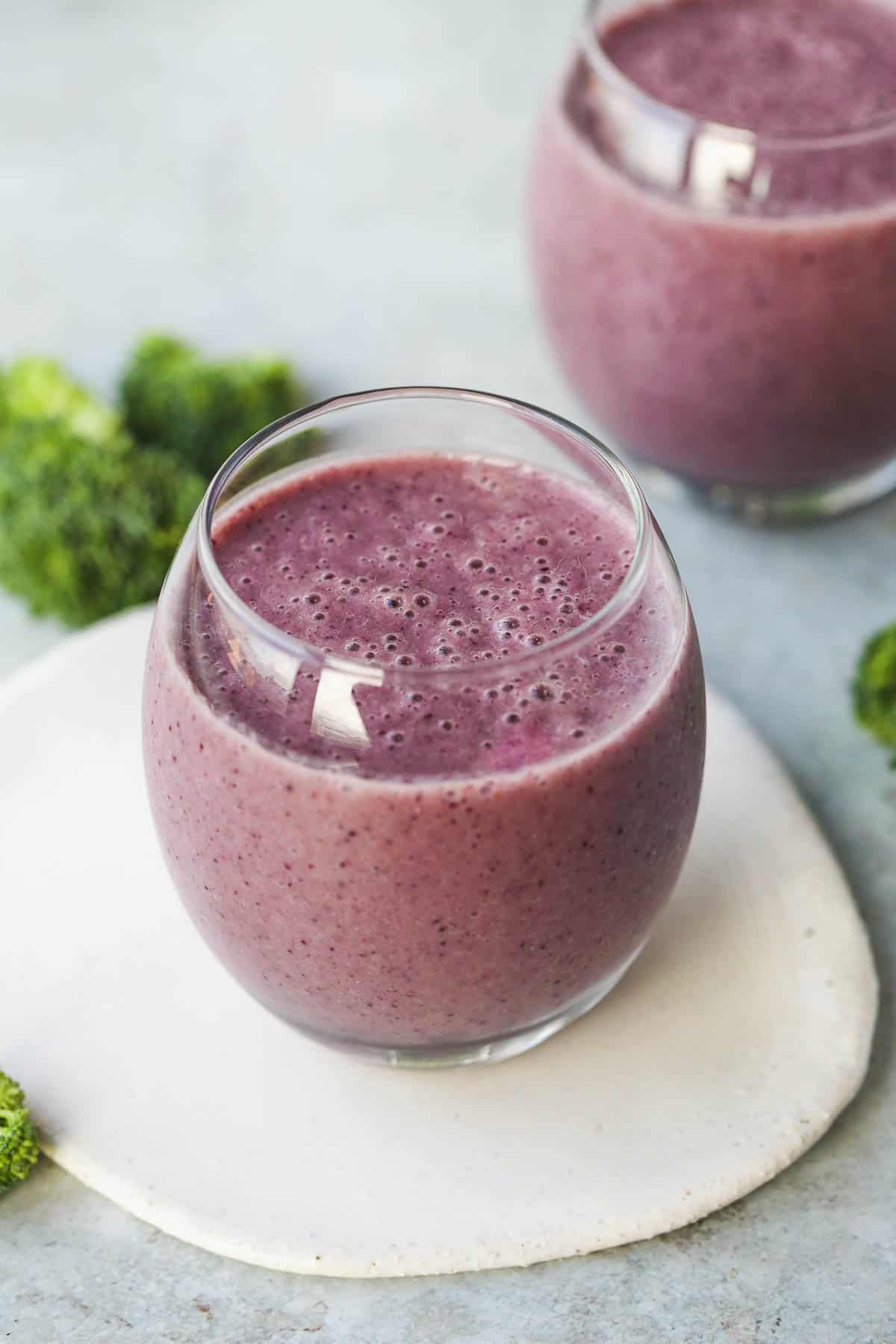 Although this smoothie is with broccoli, it is not green, as it is the case for my Green Kale Pineapple Smoothie. So you can literally mask broccoli's flavor and color with blueberries, and other fruits. And you will not get those eyes rolling when you serve this smoothie to your loved ones.
That is definitely a win-win; they drink broccoli smoothie and you don't have to worry that somebody is not eating enough fruits and veggies, especially when it comes to cruciferous vegetables like broccoli.
You can also eat more broccoli without the fruit by making this delicious soup in the Instant Pot, or this healthy side dish in the Air Fryer.
Why broccoli is good for you?
Broccoli is a superfood which is loaded with fiber, minerals, vitamins C and K. It has lots of calcium, folic acid, and potassium. Furthermore, it is one of the best sources of sulforaphane – an antioxidant with powerful anti-inflammatory effects. And this component is created when you eat these raw green florets.
Why blueberries are good for you?
Blueberries are also superfoods which are high in nutrients, antioxidants, and phytoflavinoids (compounds that help protecting our bodies from stress). They are packed with potassium, vitamin A, vitamin C, and vitamin E.
Pairing these ingredients makes this Blueberry Broccoli Smoothie an excellent healthy option for every day!
Tools and ingredients:
The main tool that I used to make this recipe is:
A high speed blender – it simply makes the richest and creamiest smoothies. Even when fruits or vegetables are unpeeled or have their seeds in (which is the case in the apples that I used in this recipe).
The ingredients that I used to make this recipe are:
Broccoli – fresh or frozen broccoli florets work well.
Apple – unpealed for more fiber and nutrients.
Blueberries – frozen for more nutrients.
Banana – frozen for creamy texture.
Almond milk – adds creaminess to the smoothie.
Chia seeds – added for nutrients, antioxidants, fiber and omega-3 fatty acids and a source of plant-based protein.
Water – and you can add a little ice to make it frothier.
Instructions:
In a high speed blender, blend all of the ingredients together until smooth. Serve immediately.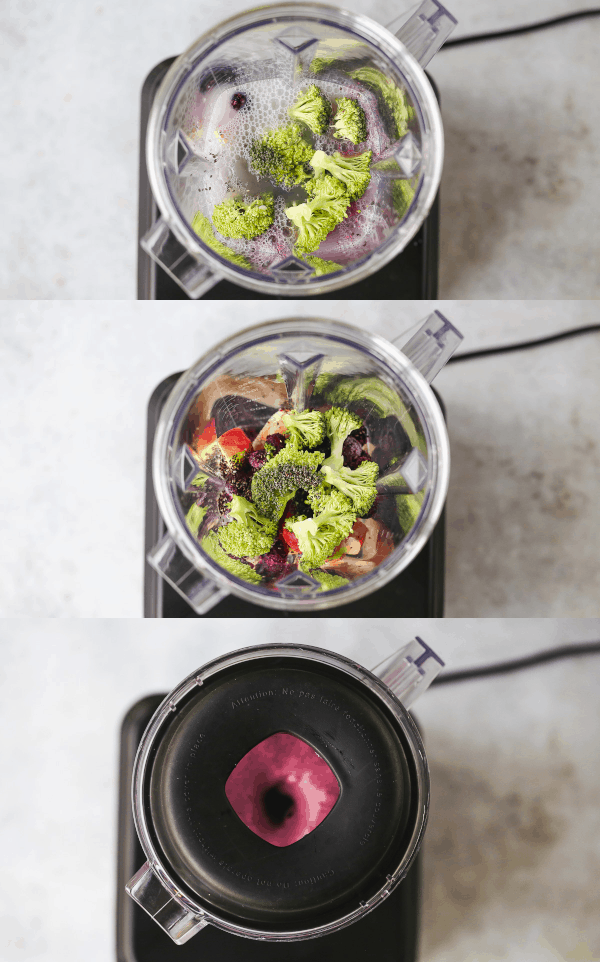 You can add more broccoli to the smoothie, to acquire more nutrition benefits. However, it is important that you taste the smoothie as you go to make sure you like the flavor and the texture.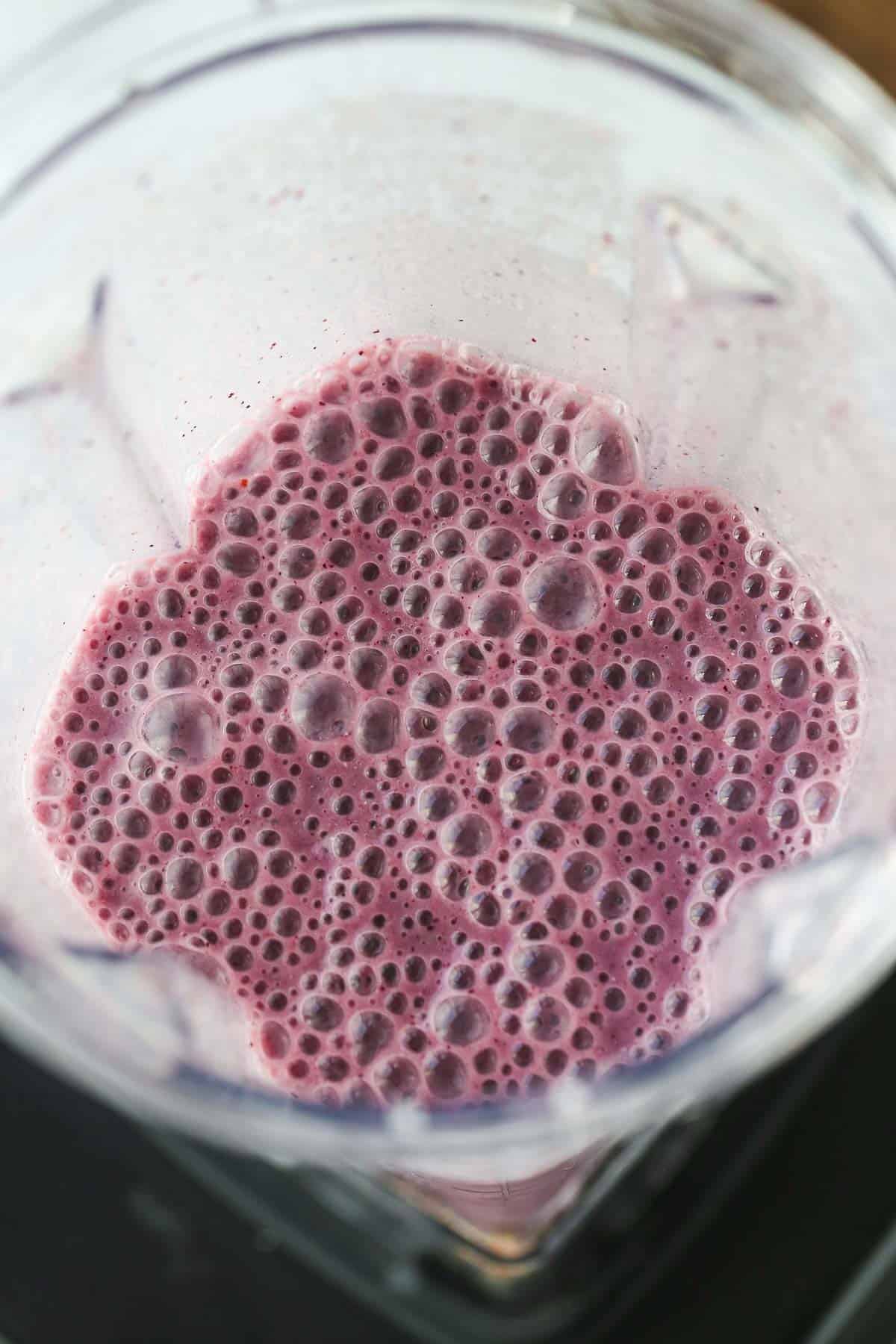 Can I make a smoothie that will last me for 2 days?
I always prefer to drink the smoothie right away. But if I end up making a large batch, I store the extra smoothie in the fridge in a glass sealed jar for up to 24 hours.
Is the smoothie going to separate? The answer is yes. All you need to do is to take the jar out of the fridge, give it a shake, and enjoy!
What does broccoli taste like?
Broccoli has an earthy flavor that is slightly sweet and slightly bitter.
Is broccoli a fruit or vegetable?
Broccoli is an edible green plant in the cabbage family. So it is a cruciferous vegetable, same as kale, cabbage, Brussels sprouts and cauliflower.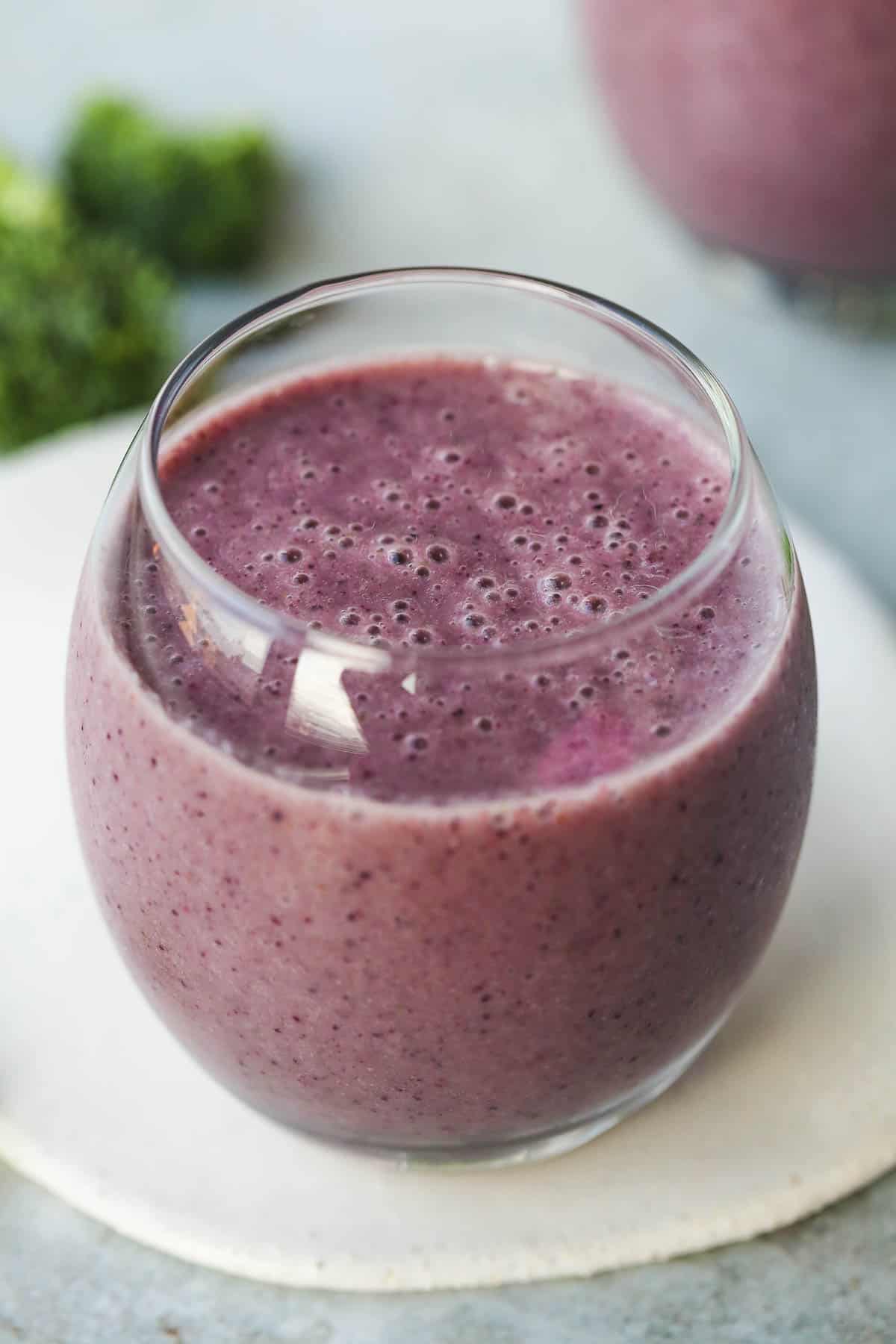 For more delicious and nourishing smoothie recipes ideas, check out my Easy Apple Banana Smoothie and Banana Strawberry Smoothie.
Did you make this recipe? Be sure to leave a review below and tag me on Facebook, Instagram, or Pinterest!
Recipe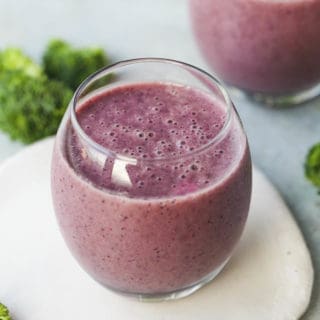 Recipe
click the stars to rate!
Blueberry Broccoli Smoothie
Delicious and nourishing Blueberry Broccoli Smoothie loaded with good-for-your-health fruits and vegetables that will give you the needed boost to make any day brighter! And it takes only 5 minutes to make!
Ingredients
½ cup (90 grams) broccoli florets fresh or frozen
1 apple
½ cup (50 grams) blueberries frozen
2 bananas frozen
1 cup (250 ml) almond milk
½ cup (125 ml) water
2 teaspoons chia seeds
Instructions
In a high speed blender, blend all of the ingredients together until smooth. Serve immediately.
Notes
Frozen berries have similar nutritional value as fresh berries, if not more. That is because berries are at their prime and retain their nutrients better at the moment of the flash-freezing process. Therefore, for this recipe, you can use pre-packed frozen berries or berries that you have stocked up on fresh and frozen them yourself.
Same goes for broccoli. You can use fresh or frozen broccoli florets.
Broccoli can be substituted by spinach.
Almond milk – naturally adds a hint of sweetness to the smoothie. Alternatively, you can use rice milk, soy milk, cashew milk, or coconut milk.
Remember to always mix chia seeds into another food and avoid intaking it dry, as this might cause swallowing problems (chia seeds can absorb water up to 27 times their weight which could cause a problem swallowing them in their dry form).
Nutrition
Calories: 121kcal | Carbohydrates: 27g | Protein: 2g | Fat: 2g | Saturated Fat: 1g | Sodium: 90mg | Potassium: 376mg | Fiber: 5g | Sugar: 15g | Vitamin A: 263IU | Vitamin C: 36mg | Calcium: 103mg | Iron: 1mg
This website provides approximate nutrition information for convenience and as a courtesy only. Nutrition data is gathered primarily from the USDA Food Composition Database, whenever available, or otherwise other online calculators.