When the air gets crisp and the leaves start to fall, there's nothing quite like a bowl of warm and creamy Pumpkin Soup to comfort the soul. This pumpkin soup is a creamy blend with a hint of smokiness from paprika, complemented by the warmth of ginger. It's a simple recipe that both kids and adults will adore, especially because it's so easy to whip up on a busy day.
As the soup season approaches, there's nothing like a homemade bowl to warm you up. Making soup from scratch might sound time-consuming, but the truth is, it's a straightforward process that often requires minimal effort. Plus, the reward is a flavorful, fresh, and nutritious meal that's far superior to anything you'd get from a can.
If you're a fan of making soups from scratch, you might also want to check out these other delicious recipes: Curried Cauliflower Soup, Instant Pot Lentil Soup, and Instant Pot Broccoli Cheddar Soup. Each of these recipes offers a unique flavor profile, ensuring you have a variety of options throughout the season.
Why This Pumpkin Soup Stands Out
Simple Ingredients: Most ingredients are pantry staples or easily available. This means you can decide to make this soup on a whim without a special trip to the grocery store.
Quick Preparation: Ready in under 30 minutes. Perfect for those evenings when you're short on time but still want a homemade meal.
Versatile: Can be garnished with a variety of toppings to suit different tastes. Whether you like it spicy, creamy, or both, you can adjust the toppings to your liking.
Key Ingredients
To make this soup, you will need these simple ingredients:
Pumpkin: This is the star of the show. Pumpkins are not only flavorful but also packed with vitamins and minerals. They're especially high in beta-carotene, which your body converts into vitamin A.
Oil: The type of oil you use can subtly change the flavor of the soup. Olive oil adds a Mediterranean touch, while coconut oil gives a slight tropical hint. You can use any type of vegetable oil that you have on hand to saute the vegetables for the soup.
Smoked Paprika: This spice is essential for adding depth to the soup. Its smoky flavor contrasts beautifully with the sweetness of the pumpkin.
Vegetable Stock: This forms the base of the soup. While you can use store-bought stock, consider making your own for an even fresher taste.
How to Make Pumpkin Soup
Dice the pumpkin – Start by cutting through the pumpkin, and slice it into big wedges. Using a potato peeler, peel the skin and then cube the pumpkin into 1-inch pieces (just like in the picture below). This is the most difficult thing to do in this recipe, and it's not even difficult.
Sauté onion – Add coconut oil or vegetable oil, to a pot and sauté the onion on medium heat on a stovetop.
Add garlic and spices – Then add ginger, smoked paprika, and minced garlic and fry for one minute or until the garlic is fragrant but make sure not to burn it.
Add remaining ingredients – Add the rest of the ingredients, bring to boil, close the lid and let it simmer for 10-15 minutes or until the pumpkin is soft.
Blend – Blend the soup using an immersion blender until smooth and creamy.
Garnish – Finally, garnish the soup with soy cream or canned coconut cream and sprinkle with fresh thyme, crushed chili flakes, pumpkin seeds and a drizzle of olive oil. Serve warm. We served it in these beautiful Staub pumpkin cocottes!
How to Make in a Soup Maker
Add all ingredients in the soup maker and let it cook for 10 minutes. Then choose the "smooth" setting so it blends the ingredients into the desired consistency.
Storing and Make-Ahead Tips
Soups are one of those dishes that often taste even better the next day. The flavors meld and develop, resulting in a richer taste. If you're considering storing this pumpkin soup for later, here are some tips to ensure it remains as delicious as when you first made it:
Cooling Before Storing: Always allow the soup to cool down to room temperature before you think of storing it. This not only ensures the safety of the food but also helps in preserving its freshness.
Refrigeration: Once cooled, transfer the soup to an airtight container. This step is crucial to prevent any external flavors from the fridge from seeping into your soup. Properly stored, the soup will remain fresh and tasty for up to 4 days.
Freezing for Later: One of the best things about this pumpkin soup is its freezability. If you're someone who likes to plan meals ahead or just loves the convenience of ready-to-eat homemade food, then freezing this soup is a great option. After allowing the soup to cool completely, pour it into freezer-friendly containers, ensuring you leave some space at the top for expansion. The soup can be frozen and enjoyed for up to 3 months.
Reheating the Soup: When you're ready to serve, there are a couple of ways to reheat it:

Microwave: If you've thought ahead and allowed the soup to thaw at room temperature for about an hour, the microwave is a quick and efficient way to reheat. Ensure you stir occasionally for even heating.
Stovetop: If you haven't thawed the soup, no worries! You can directly reheat the frozen soup in a pot over medium heat. Just remember to stir occasionally to prevent any sticking at the bottom.

A Word of Caution: Once you've reheated the soup, it's best to consume it right away. Refreezing previously thawed and reheated food can compromise its texture and flavor, and it's not recommended for safety reasons.
Recipe Tips
Roasting the pumpkin before adding it to the soup can intensify its flavor.
If you don't have an immersion blender, a regular blender works too. Just ensure the soup is cool before blending to avoid accidents.
For those who like a bit of heat, consider adding a pinch of cayenne pepper.
Recipe FAQs
Can I use other types of pumpkin?
Yes, any variety works, but the flavor might slightly vary.
How can I make the soup creamier?
Add a splash of cream or coconut milk at the last stage of cooking, or add it as a garnish right before serving.
Is this soup gluten-free?
Yes, as long as the vegetable stock used is gluten-free.
Fall is the perfect time to indulge in warm, comforting foods, and this pumpkin soup is no exception. Its creamy texture, combined with the smokiness of paprika and warmth of ginger, makes it a must-try this season. So, when pumpkins are abundant and the weather calls for something cozy, remember this recipe. And once you've tried it, don't forget to rate and review!
Did you make this? Be sure to leave a review below and tag me on Facebook, Instagram, or Pinterest!
Recipe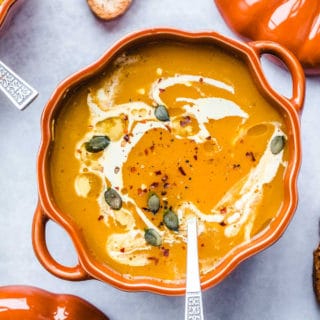 Recipe
click the stars to rate!
Creamy Pumpkin Soup
This creamy pumpkin soup combines the warmth of ginger with a smoky hint of paprika, creating a comforting dish perfect for chilly days.
Ingredients
1 pound pumpkin about half a pumpkin
2 teaspoons oil olive, cocount, avocado, or any vegetable oil
1 medium yellow onion diced
1 teaspoon fresh ginger grated
2 cloves garlic minced
1 teaspoon smoked paprika
2 cups vegetable stock
1 teaspoon fresh thyme or a pinch of dried thyme
1 teaspoon salt
Optional Garnishes
Yogurt, heavy cream, or coconut cream
pumpkin seeds
extra virgin olive oil
crushed chili flakes
Instructions
Prepare the pumpkin by halving, peeling, and cubing.

In a medium sized pot, heat oil and sauté onion until it's soft and translucent.

Add ginger, and garlic and cook for 30 seconds until the garlic is fragrant (be careful not to burn it). Then add the smoked paprika, and cook for 30 seconds.

Add the vegetable stock, and thyme and bring to a simmer. Cover with a lid and simmer on low heat for 10-15 minutes or until the pumpkin is fork-tender.

Blend the soup using an immersion blender until smooth and creamy. Season with salt, and adjust the seasonings to your preference. Allow to cool for 5 minutes before serving.

Ladle into bowls, then garnish with your favorite garnishes (yogurt, cream, fresh herbs, red pepper flakes, a drizzle of olive oil, or pumpkin seeds). Serve warm with crust bread.
Notes
This pumpkin soup can be stored in the fridge for up to four days. It might thicken up a bit, so adding some water or broth will thin it out.
This soup is freezer friendly.
For more spiciness, add more chilis while cooking.
The garnishes are optional.
We served it in these beautiful Staub pumpkin cocottes!
To make in a soup maker, simply add all ingredients in the soup maker and let it cook for 10 minutes. Then choose the "smooth" setting so it blends the ingredients into the desired consistency. Serve warm!
Nutrition
Calories: 119kcal | Carbohydrates: 25g | Protein: 3g | Fat: 2g | Saturated Fat: 2g | Sodium: 2109mg | Potassium: 874mg | Fiber: 3g | Sugar: 11g | Vitamin A: 20348IU | Vitamin C: 27mg | Calcium: 66mg | Iron: 2mg
This website provides approximate nutrition information for convenience and as a courtesy only. Nutrition data is gathered primarily from the USDA Food Composition Database, whenever available, or otherwise other online calculators.
Some of the links in this post are affiliate links that pay me a small commission for my referral at no extra cost to you. Thank you for supporting nourishplate.com