This quick and easy Vegan Pasta Salad takes less than 20 minutes to make start to finish. It's made with very simple ingredients that are healthy, colorful, and tasty. And my favorite part is the dressing, the creaminess of the dressing is the reason why we absolutely LOVE this pasta salad.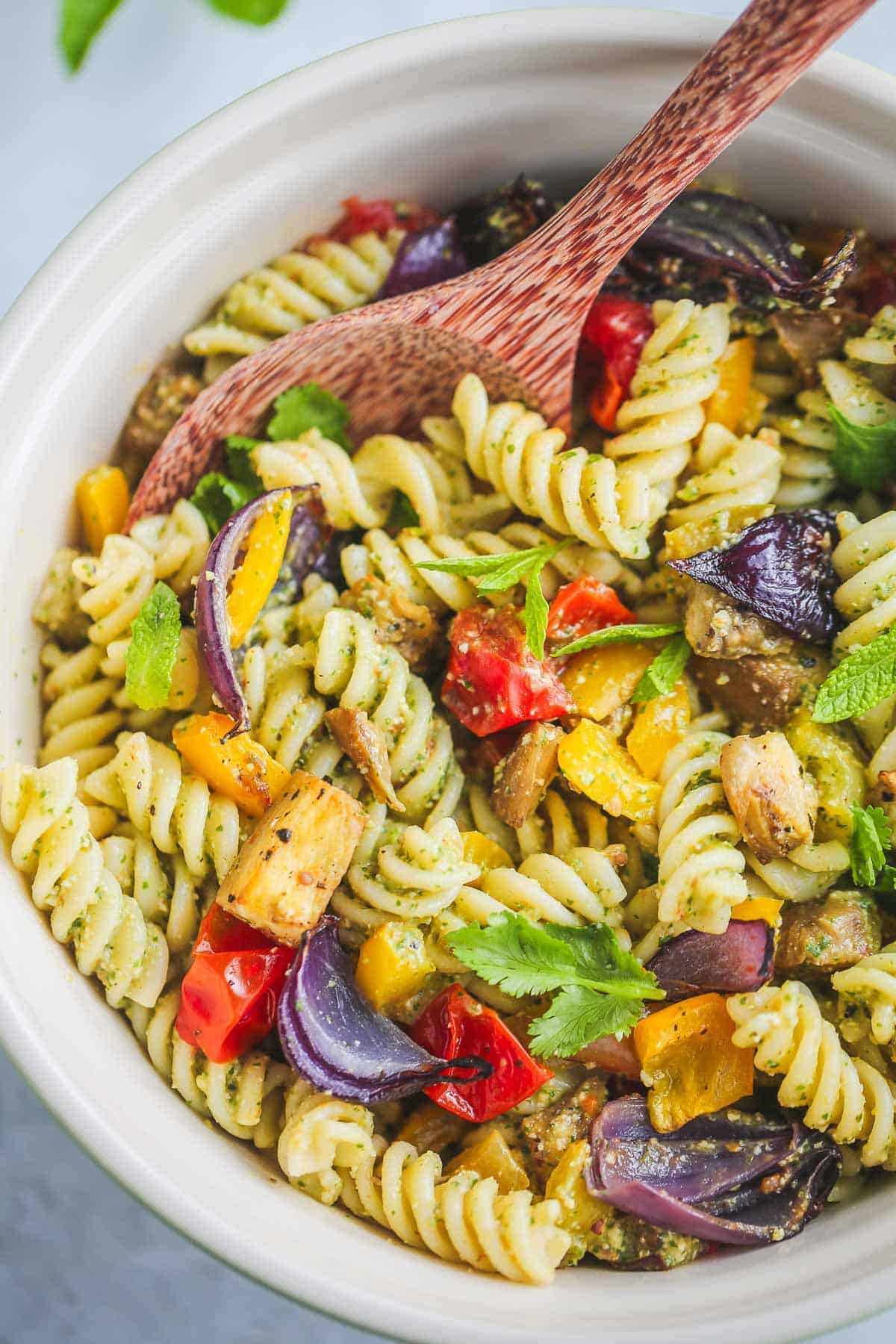 This is a must-have dish for every time we have a BBQ, plan a picnic, or have a family gathering. This recipe is definitely a crowd-pleaser, and the kids love it! That's why I make this recipe almost every week, if not more often.
Since this pasta salad is vegan, it means that everyone in my family can enjoy it. Even the meat-eaters love it! It's perfect for this time of the year, but honestly, we make it during the winter as well!
This salad can be easily made gluten-free. And there is no added sugar or preservatives that you would usually find in ready store-bought pasta salads!
How to Make a Vegan Pasta Salad?
Making this salad is simple. You don't need to use any special ingredients here. In fact, it's very versatile and you can use whatever veg you have available. Most of the ingredients that I used to make this recipe are easily substitutable (more on this under the recipe variations section below).
Here's What You'll Need:
You will need a green bell pepper, yellow bell pepper, eggplant, cherry tomatoes, red onion, and of course, pasta. And for the dressing, nothing matches this salad better than my super creamy and nutritious Avocado Cilantro Dressing.
The Directions:
Start by cubing the green and yellow peppers and the eggplant, halving the cherry tomatoes and chopping the onions into quarters. Then toss the veggies with a little bit of olive oil to coat. Season with salt and pepper before arranging them in a single layer on a roasting sheet so they crisp up.
Place the roasting sheet on the middle rack of a preheated oven to 400F for about 15 minutes until golden and crispy. Roasting the vegetables is a vital step in this recipe because this is what gives this salad its irresistible taste!
While the veggies are being roasted, cook your pasta according to package instructions, then drain. I never add oil to my pasta while it's being cooked, just salt. And you can use any pasta short shape that you like, I usually go for penne or fusili.
Finally, toss the cooked pasta with roasted veggies and the homemade Avocado Cilantro Dressing. Serve at toom temperature or cold, and enjoy!
Recipe Variations:
This pasta salad is very versatile. You can add your favorite shape and type of pasta, I always go for short-shape pasta for pasta salads. I also think that chickpea pasta and pea pasta are great, you can also use homemade pasta, gluten-free pasta, etc.
As for the veggies, use whatever you have available/like. Basically, any vegetables that you'd normally roast. But use common sense as in what veggies take longer to roast, i.e, potatoes take much longer than cherry tomatoes so you'd need to add the cherry tomatoes halfway through. Below are some ideas:
Sweet Corn
Roasted Carrots
Or Roasted Zucchinis
Storing Tips:
If you have any leftovers, you can store them in the fridge to enjoy later. Just place the salad in an airtight food container and consume within 24 hours if the dressing has been added to the salad. However, the salad can be stored for up to 3 days if the dressing has not yet been added to the rest of the cooked ingredients.
So I recommend to always add the dressing to this vegan pasta salad right before consuming.
For more delicious and nourishing recipe ideas, click here. Also, make sure to check out my other Side Dish recipes.
Subscribe to my Newsletter, and follow me on Facebook, Instagram, and Pinterest for more nourishing and delicious recipes!
If you try this recipe, please don't forget to rate it and share a picture on social media, tagging #NourishPlate in your posts. I would really love to see your creations. Bon appetit!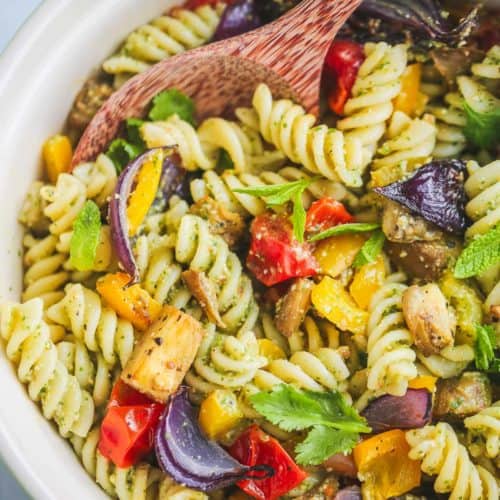 Vegan Pasta Salad
Easy and quick Vegan Pasta Salad recipe that takes less than 20 minutes to be ready. It's made of simple ingredients which make it healthy, colorful and tasty.
Print
Pin
Rate
Ingredients
1

green bell pepper

medium

1

yellow bell pepper

medium

1

eggplant

7 ounces

(200g)

cherry tomatoes

2

red onions

1

tablespoon

olive oil

½

teaspoon

salt

¼

teaspoon

ground black pepper

12 ounces

(340g)

pasta
fresh herbs

to garnish
Instructions
Cook the pasta in salted water according to the package instructions then drain.

Preheat the oven to 400°F (200°C).

Cube the green and yellow peppers and the eggplant, halve the cherry tomatoes and chop the onions into quarters.

Toss the veggies with olive oil to coat and season with salt and pepper.

Arrange the veggies in a single layer on a roasting pan.

Place the roasting pan on the middle rack of a preheated oven for about 15 minutes flipping halfway through until roasted and tender.
Notes
Roasting the vegetables is a vital step in this recipe because this is what gives this salad its irresistible taste!

Store leftovers in the fridge in an airtight container and consume within 24 hours if the dressing has been added to the salad. If the dressing has not been added to the rest of ingredients, the salad can be stored in the fridge for up to 3 days.

This pasta salad can have many variations. You can add your favorite shape and type of pasta. And you can substitute, omit or add other veggies according to your preference. A few suggestions for roasted veggies are included here:

Roasted Carrots
Roasted Zucchinis
Sweet Corn
Nutrition
Calories:
190
kcal
|
Carbohydrates:
22
g
|
Protein:
4
g
|
Fat:
4
g
|
Saturated Fat:
1
g
|
Sodium:
748
mg
|
Potassium:
847
mg
|
Fiber:
7
g
|
Sugar:
12
g
|
Vitamin A:
807
IU
|
Vitamin C:
102
mg
|
Calcium:
46
mg
|
Iron:
2
mg