10 fabulous Instant Pot pasta recipes for every occasion! In this roundup, I've included everything from indulgent and creamy mac and cheese, chicken fajita pasta and chicken alfredo pasta to healthier recipes like Pasta e Fagioli and chicken noodle soup.
Pasta is my definition of ultimate comfort food and whether you're looking for a comforting and cozy pasta recipe for a cold rainy day or a lighter pasta dish for a hot summer day, I've got your back! Most of these recipes are family-friendly and are 'dump and start' recipes that you're going love as they're so easy to make and taste absolutely amazing.
Easy Instant Pot Garlic Parmesan Noodles is a perfect side dish that you can make in one pot in just 20 minutes!
Instant Pot Spaghetti and Meatballs recipe is an easy one-pot meal that everyone will love. It's delicious and so easy to whip up! Perfect for busy weeknight dinners.
Instant Pot Chicken Fajita Pasta is a comforting and cheesy dump and start recipe. It is perfect for a busy weeknight dinner!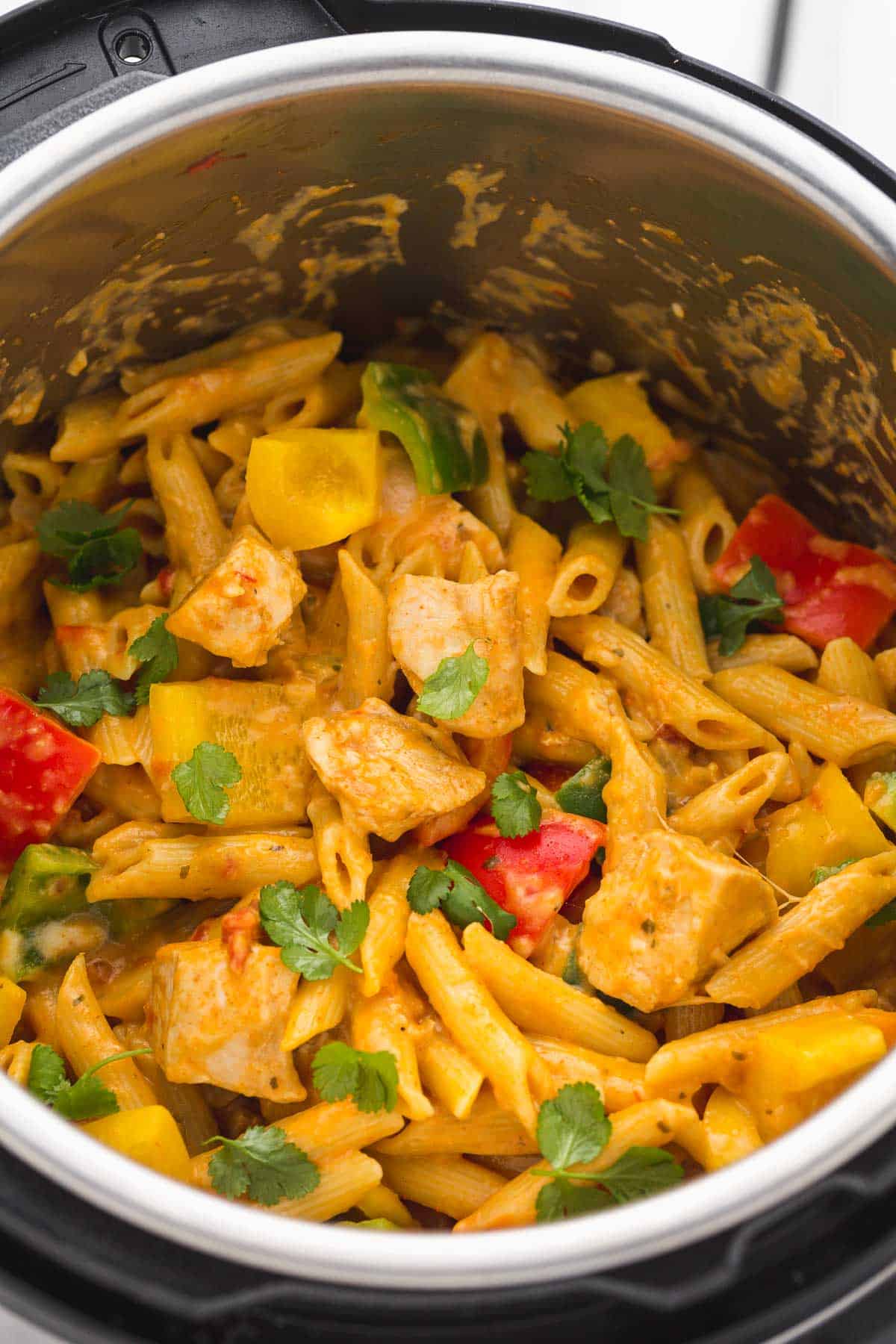 One of the most popular Instant Pot recipes is this cheesy and delicious taco pasta. It's like hamburger helper, but even better!
Super creamy and rich Instant Pot Macaroni and Cheese cooked in under 20 minutes! Made with 3 kinds of cheese, you will never want to have it any other way!
Easy one-pot Instant Pot chicken Alfredo pasta with mushrooms. This Alfredo pasta is so easy and quick to make, and makes a wonderful meal that the whole family will love! It is so creamy and indulgent that you won't be able to stop at just one bowl.
Easy and flavorful dinner is made so easy with this one-pot chicken florentine pasta. So creamy, and the flavors are incredible!
This family-friendly recipe makes the PERFECT dinner on busy weeknights! Ready in just half an hour, you'll keep making it over and over again!
For all alfredo lovers out there, you MUST try this chicken alfredo tortellini soup! It's so creamy, comforting, and cheesy, but with the addition of spinach. Your kids are going to LOVE this.
This Instant Pot Chicken Soup is easy comfort food, and perfect for a quick midweek lunch or dinner meal. It's so easy to make, and requires very few and simple ingredients! Feeling like you might have caught a cold? You need a bowl of this soup as it will definitely warm you up and make you feel better!
For more delicious and nourishing recipe ideas, click here. Also, make sure to check out my other Instant Pot recipes.
If you try this recipe, please don't forget to rate it and share a picture on social media, tagging #NourishPlate in your posts. I would really love to see your creations. Bon appetit!