These Pecan Pie Cupcakes blend the nutty crunch of pecans with the smoothness of Swiss meringue buttercream. The cupcakes themselves are soft and flavorful, while the pecan pie filling adds a delightful surprise. Easy to make, these cupcakes are perfect for Thanksgiving or any fall get-together.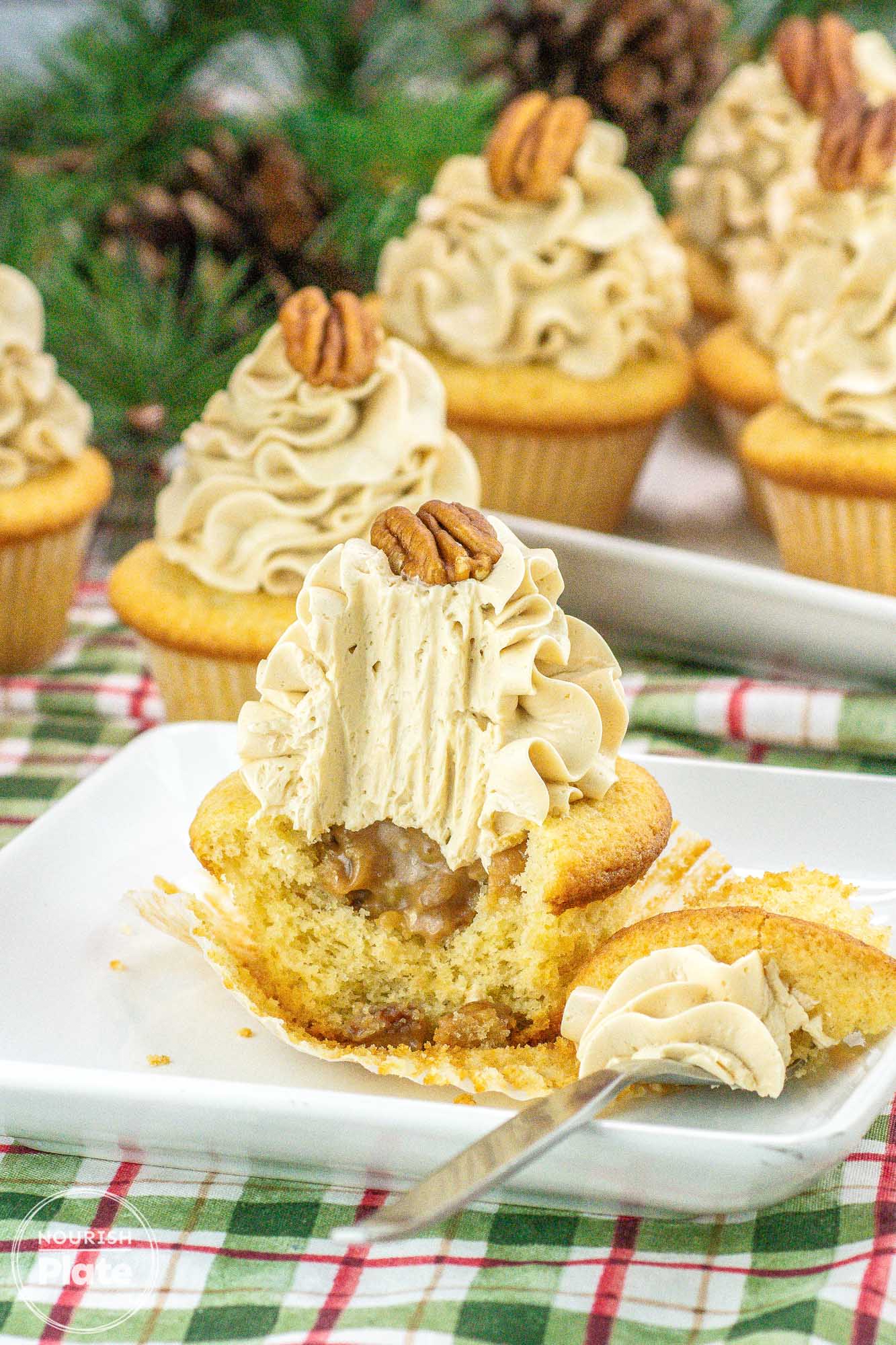 Imagine a cupcake that tastes just like pecan pie! Soft cake, gooey pecan filling, and smooth icing make each bite amazing. They're easy to make, and fun to decorate! For more fall inspired treats, check these desserts out:
Why This Recipe is Great
Straightforward Steps: This recipe is laid out with clear, easy-to-follow steps, accompanied by photos to guide you through the process. Each phase, from mixing the batter to preparing the pecan filling and whipping up the icing, is simple. This makes it super manageable even if you're juggling a busy schedule or getting kids involved in the baking fun.
Less Fussy than Traditional Pecan Pie: If you've ever made a traditional pecan pie, you know that getting that filling just right can be a bit of a chore. These cupcakes remove that hassle but keep all the flavors you love. Plus, no worries about slicing up a pie; these are already in perfect, single-serving sizes!
Great for Make-Ahead: Need to prep for a big family gathering or looking to sort out a week's worth of school snacks? These cupcakes got you covered. You can bake them ahead of time and store them in the freezer. Just add the icing when you're ready to serve, making your life a whole lot easier.
Kid-Friendly and Crowd-Pleasing: Children can be picky eaters, but cupcakes are usually a win. These Pecan Pie Cupcakes aren't just good; they're a hit with people of all ages. They're perfect for school functions, family gatherings, or just as a special treat to brighten someone's day.
Ingredients Needed
All-Purpose Flour: The backbone of our cupcakes. Stick with all-purpose here for the best results. If you're looking for a gluten-free option, there are gluten-free all-purpose flours available that work well in baking.
Butter: Use unsalted butter to control the saltiness. Butter adds richness to both the cupcake batter and the pecan filling. If you're out of butter, you can use margarine, but the flavor won't be quite the same.
Sugar: We use both granulated sugar and brown sugar in this recipe. Granulated goes into the cupcake mix, and brown sugar goes into the pecan filling to give it a deep, caramel-like flavor.
Pecans: The star of the show! You'll need these for the special pecan filling that makes these cupcakes unique. You can buy them chopped or chop them yourself. If you have a nut allergy, you can skip them and opt for a simple caramel filling instead.
Eggs: Eggs act as the binder in our cupcakes. Make sure they're at room temperature for easier mixing.
Milk: Whole milk is best for a creamy, rich texture in the cupcake. If you need to, you can use 2% milk, but try to avoid skim or non-dairy milk, as they can alter the texture.
Vanilla Extract: A dash of vanilla extract adds a nice aroma and flavor balance to the cupcakes. Go for pure vanilla extract over imitation if you can.
Cream Cheese: This is for the icing. Stick with full-fat cream cheese for the best flavor and texture. If you use a low-fat version, the icing may end up too runny.
Complete list of ingredients with quantities and instructions is located in the recipe card below
How To Make Pecan Pie Cupcakes
Preheat your oven to 350°F (180°C). Get your cupcake pan ready by placing cupcake liners in each slot.
Combine Dry Ingredients: Combine the all-purpose flour, baking powder, and a pinch of salt into a bowl. Stir them together so they're well mixed.
Beat Butter and Sugar, and Add Eggs: Take another bowl and add the unsalted butter and granulated sugar. Use an electric mixer to beat them together until they look light and fluffy. Put in the eggs one by one, beating well after each egg. Don't forget to toss in a little splash of vanilla extract, too!
Combine Dry and Wet: Slowly add the dry mixture to the wet mixture. Mix it up but don't overdo it. If you mix too much, the cupcakes can get too hard. Then, pour in the milk and give it a quick mix.
Fill the Liners and Bake: Use a spoon to put the cupcake batter into the liners. Fill them about two-thirds of the way. Stick the pan in the oven and let it bake for 20-25 minutes. You'll know they're ready when you can stick a toothpick in one and it comes out clean.
Let Them Cool: Once the cupcakes are done, take them out and let them cool down. Don't rush this part; they need to be fully cool before you add the icing and pecan filling.
Cook the Pecan Filling: In a saucepan over medium heat, combine water, egg yolk, cornstarch, brown sugar, and chopped pecans. Heat it up until it boils. Keep stirring and don't walk away. Turn off heat, add butter and vanilla, stir, and let the filling cool as you make the frosting. Once cool, transfer the filling to a piping bag, and set aside.
Set Up Your Double Boiler: Put a large pot on the stove with about 2 inches of water. Set the bowl of your stand mixer on top of the pot. Turn on the heat and let the water boil.
Mix Sugar and Egg Whites: In the stand mixer bowl, add the brown sugar and egg whites. Keep whisking while the mix heats for about 3-5 minutes. If you've got a thermometer, aim for 160°F (71°C). If not, test it and make sure it's not grainy. It should be super sticky.
Whisk to Peaks: Move the bowl to the stand mixer. Use the whisk attachment and go at medium speed for 5-10 minutes. You want stiff peaks and the bowl to feel room temp.
Add the Extras: Swap the whisk for a paddle attachment. While mixing at a low-to-medium speed, add in vanilla and butter cubes, one by one. If it looks chunky or separated, don't worry. Just keep going until it's smooth. Transfer some of the frosting to a piping bag fitted with a large star tip. Set aside until ready to assemble.
Hollow the Cupcakes: Use a rounded teaspoon, a cupcake corer, or a small ice cream scoop to take out the middle of each baked cupcake. You can eat or toss these pieces.
Add the Filling: Take your piping bag with the pecan filling and fill up the hole in each cupcake just to the top.
Top with Frosting: Now take your frosting piping bag and cover each cupcake. Make it look like a mountain with a peak. Put a half pecan on the top point of your frosting mountain.
Recipe Tips
Even Cupcakes: Use an ice cream scoop to put the batter into cupcake molds. This makes sure all your cupcakes are the same size.
Fix Stiff Frosting: If your frosting feels too hard, you can add a bit of cream or milk. Then keep mixing until you like how it looks and feels.
Thicken Thin Frosting: If the frosting seems runny, put it in the fridge for a few minutes. After that, give it another mix. Adding a little more powdered sugar can also make it thicker.
Switch the Frosting: The swiss meringue frosting is special and requires quite a few steps, but you could try something simpler like cinnamon cream cheese frosting or white chocolate frosting.
Storing Tips
If you're not eating the cupcakes right away, it's best to store them in the fridge. Put them in an airtight container to keep them fresh. They'll last about 3-4 days.
For the best taste, take the cupcakes out of the fridge about 30 minutes before you plan to eat them. This lets them come back to room temperature.
Keep this recipe close for your next baking day, especially when Thanksgiving or the fall season rolls around. It's a winner! Don't forget to pin it so that even more people can fall in love with this treat. After you try it, we'd love to hear what you think! Please leave a review and rate the recipe to help others decide if they should give it a go, too!
Did you make this? Be sure to leave a review below and tag me on Facebook, Instagram, or Pinterest!
Recipe
Recipe
click the stars to rate!
Pecan Pie Cupcakes
These cupcakes are like a mini pecan pie but better. They have a rich, nutty filling and are topped with a smooth and creamy Swiss meringue buttercream. They're a bit fancy but not too hard to make!
Ingredients
For Cupcakes:
2 ½ cups all-purpose flour
2 teaspoons baking powder
1 teaspoon salt
12 tablespoons unsalted butter, softened
¾ cup light brown sugar
¾ cup granulated sugar
3 large eggs
2 teaspoons vanilla extract
1 cup milk whole or 2%
For Pecan Pie Filling:
⅔ cup water
1 large egg yolk
½ cup brown sugar
2 tablespoons cornstarch
1 cup chopped pecans
2 tablespoons unsalted butter
1 teaspoon vanilla extract
For Swiss Meringue Buttercream:
5 large egg whites
1 ⅔ cups light brown sugar
2 cups unsalted butter softened
2 teaspoons vanilla extract
½ cup pecan halves for decoration
Instructions
Preheat the oven to 350°F (180°C). Place 24 liners in your cupcake pans.
To make the cupcake bases:
In a large bowl, combine the dry ingredients (flour, baking powder, salt), and set aside.

In a mixer, beat the softened butter, brown sugar, and granulated sugar until smooth.

Add eggs and vanilla, mix well. Add the dry ingredients to the wet ingredients and mix it all up. Pour in milk and mix again.

Pour batter into cupcake pans. Bake 16-18 minutes or until a toothpick comes out clean. Let them cool.
To make the pecan filling:
In a medium saucepan, combine water, egg yolk, brown sugar, cornstarch, and chopped pecans. Cook over medium heat and stirring occasionally, heat until the mixture comes to a boil. Whisking constantly, boil for one minute.

Turn off the heat, add butter and vanilla, stir, and let it cool completely. Once cool, transfer the filling to a piping bag, and set aside.
To make the buttercream:
Create a double broiler using the bowl of a stand mixer placed over a large pot filled with about 2 inches of water. Allow the water to come to a boil before starting the frosting.

In the bowl of the stand mixer placed over the pot in the double broiler, combine the brown sugar and egg whites. Whisking constantly, continue to heat the mixture for approximately 3-5 minutes. If you have a thermometer, the mixture should reach 160°F (71°C). Otherwise, dab the mixture and it should no longer be grainy. It will be very sticky!

Place the bowl in the stand mixer and whisk on medium speed for about 5-10 minutes or until stiff peaks is achieved and the bowl is no longer warm to the touch.

Switch the whisk attachment for a paddle attachment. While the mixer is going on low/medium speed, add the vanilla and slowly add in cubes of butter, mixing well between each addition. The mixture may look curdled at some point – just keep mixing until smooth.

Transfer some of the frosting to a piping bag fitted with a large star tip. Set aside until ready to assemble.
To assemble:
Remove the center of each cooled cupcake using a rounded teaspoon, a cupcake corer, or small ice cream scoop.

Fill the hole with pecan filling. Pipe the Swiss meringue buttercream on top. Add a pecan half for decoration.
Notes
If frosting is stiff, add a bit of cream and whip again.
For thin frosting, chill briefly and whip again or add more powdered sugar.
If you're not eating the cupcakes right away, it's best to store them in the fridge. Put them in an airtight container to keep them fresh. They'll last about 3-4 days.
Nutrition
Serving: 1cupcake | Calories: 439kcal | Carbohydrates: 45g | Protein: 4g | Fat: 28g | Saturated Fat: 15g | Polyunsaturated Fat: 2g | Monounsaturated Fat: 9g | Trans Fat: 1g | Cholesterol: 90mg | Sodium: 168mg | Potassium: 120mg | Fiber: 1g | Sugar: 33g | Vitamin A: 741IU | Vitamin C: 0.1mg | Calcium: 73mg | Iron: 1mg
This website provides approximate nutrition information for convenience and as a courtesy only. Nutrition data is gathered primarily from the USDA Food Composition Database, whenever available, or otherwise other online calculators.