Enjoy the freshness of this strawberry pie, where juicy strawberries meet a crisp, golden crust, topped with a shiny, sweet gelatine layer. Simple to prepare, it's a wonderful dessert to showcase the flavors of summer. It's the perfect sweet finish for a summer party, a family get-together, or even just a sunny afternoon treat.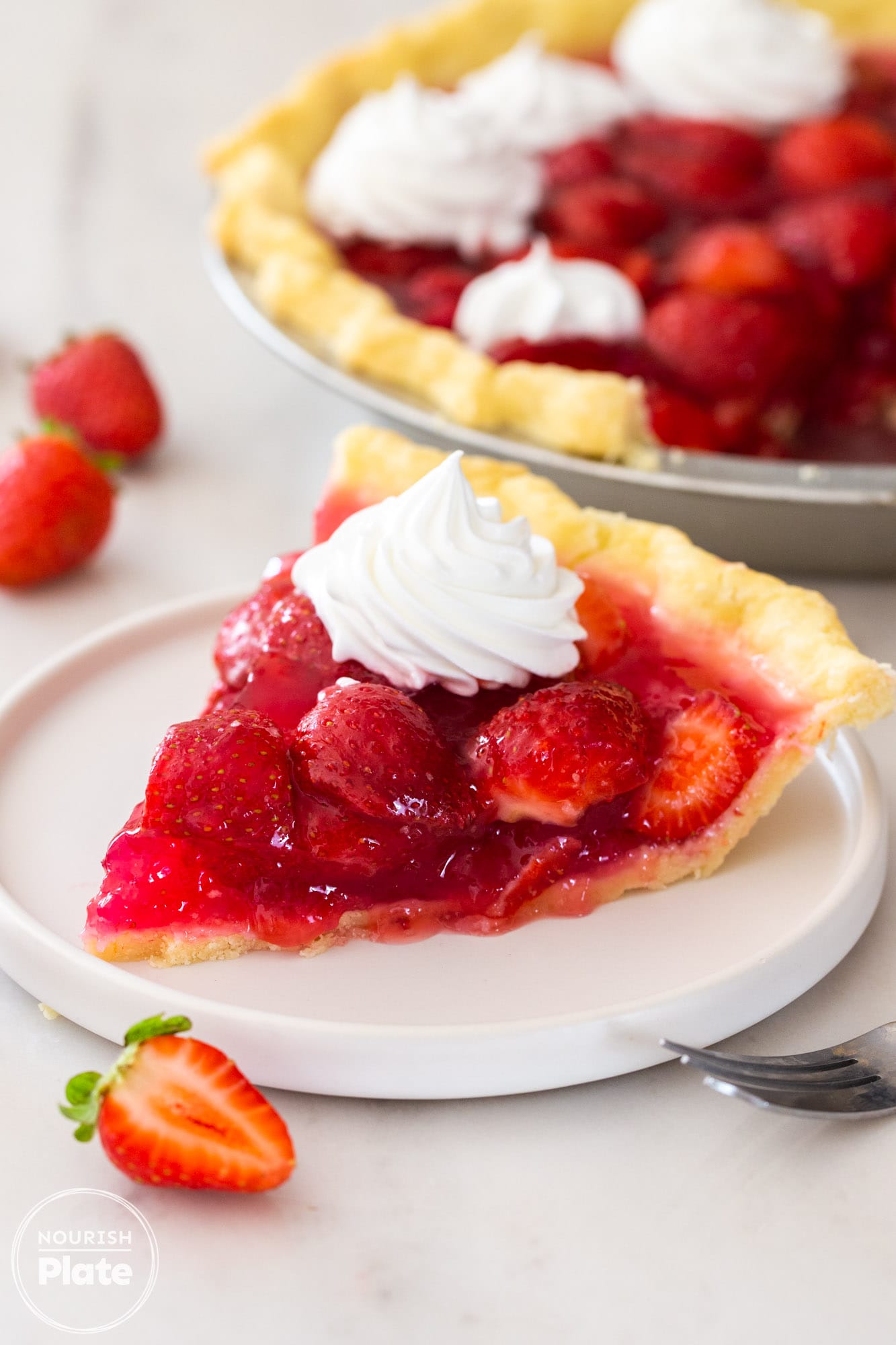 Why This Recipe Works
Fresh Strawberries: The star of the show! Their natural sweetness and vibrant color make the pie exceptionally tasty and visually appealing.
Simple Ingredients: The recipe uses common, easy-to-find ingredients. It's perfect even for beginner bakers.
Versatility: This pie is perfect for any occasion. Whether it's a quiet family dinner or a large party, it's always a hit!
Ingredients Needed
Pie Crust: A pre-made crust makes this recipe super quick, but feel free to use homemade if you prefer. Ensure it's fully blind baked for a crisp finish.
Cornstarch: This thickens the strawberry gelatine mixture. Make sure to stir well to avoid lumps.
Sugar: Adds sweetness to the gelatine mix. Adjust to taste, remembering that the strawberries also add natural sweetness.
Gelatine: Use strawberry-flavored gelatine such as the JELLO brand, the store brand also works. Dissolve it properly for a smooth texture.
Strawberries: Choose ripe, firm berries for a sweet and vibrant pie.
Whipping Cream: Optional for serving, but adds a nice contrast to the sweet pie. Chill the cream before whipping for the best results.
Complete list of ingredients with quantities and instructions is located in the recipe card below
How To Make a Fresh Strawberry Pie
Start by preheating your oven to 400°F/205°C. If you're a fan of homemade crusts, go ahead and roll out your pie dough and place it in a 9-inch pie dish. Now, it's time for blind baking! Lay some parchment paper or foil in the crust and fill it with pie weights or beans. Bake it for 8 minutes, then get rid of those weights and foil, poke the crust with a fork to keep it from puffing (this is called docking!), and let it bake for another 5 minutes.
In the meantime, grab a saucepan and combine your water, cornstarch, and sugar. Warm this mixture until it starts bubbling. Keep stirring it until it thickens up, which usually takes just a couple of minutes.
Next, remove the saucepan from the heat and stir in your gelatine. Let this blend cool down for about 15-20 minutes.
Now, here comes the fun part! Fill your beautifully pre-baked pie crust with fresh, juicy strawberries. Pour the cooled gelatine mixture all over those lovely strawberries. Cover your pie with plastic wrap and let it chill in the fridge until it firms up, which will take at least 4 hours.
If you're feeling fancy, you can top your pie with a swirl of whipped cream right before you serve it. Enjoy!
Recipe Tips
Pie Crust: If you're using a store-bought pie crust, make sure it's fully thawed before you start working with it to avoid cracks or breaks.
Blind Baking: For an extra crispy pie base, consider brushing the bottom of the crust with beaten egg white right after the blind baking process. It forms a barrier that helps prevent sogginess from the filling.
Cornstarch: Make sure to fully dissolve the cornstarch in the water before you bring it to a boil. This helps create a smooth and lump-free filling.
Fresh Strawberries: Choosing ripe but firm strawberries will give your pie a more intense flavor and maintain a nice texture.
Cooling Time: Patience is key. Ensure the pie is fully set before slicing into it, otherwise, the filling may spill out. If you can, leave the pie to set overnight for best results.
Frequently Asked Questions
Can I use frozen strawberries for this recipe?
I do not recommend using frozen strawberries for this pie. This pie is about fresh strawberries so stick to that if possible.
How long can I store this strawberry pie?
This pie can be stored in the refrigerator for up to 5 days. Make sure to cover it with plastic wrap or store in an airtight container to keep it fresh.
Can this pie be frozen for later use?
Yes, you can freeze this pie, but the texture of the strawberries and the crust will change when thawing. It's recommended to consume it fresh or within the refrigerator storage time.
I don't have cornstarch, what can I use instead?
You can substitute cornstarch with all-purpose flour, but you'll need to double the amount as flour doesn't have as much thickening power.
That's all there is to it! With these steps, you can create a fresh and tangy Strawberry Pie that's sure to impress. The contrasting textures of the crisp crust and soft strawberries, combined with the sweetness of the glaze, make for an unforgettable dessert.
Once you've tried making it, don't forget to leave a rating and a review. I can't wait to hear about your baking adventures and how much you enjoyed this beautiful pie!
Did you make this? Be sure to leave a review below and tag me on Facebook, Instagram, or Pinterest!
Recipe
Recipe
click the stars to rate!
Fresh Strawberry Pie
This strawberry pie brings together juicy fresh strawberries and a crisp pie crust, all under a shiny gelatine coating. It's simple to prepare and makes for a delicious treat that's sure to be a hit at any occasion.
Ingredients
1 single pie crust homemade or store-bought
1 cup water
2 tablespoons cornstarch
½ cup granulated sugar
1 3oz package strawberry flavored gelatin like JELL-O
4 cups fresh strawberries sliced
Fresh whipping cream for topping
Instructions
Preheat your oven to 400°F/205°C.

If using homemade pie crust, roll the pie crust flat and nestle it into a 9-inch pie dish. Get it ready for blind baking by placing parchment paper or foil inside the crust, filled with pie weights or beans. Let it bake for 8 minutes, then remove the weights and paper or foil, prick the bottom crust with a fork to prevent it from puffing up then bake for 5 more minutes.

In a saucepan, mix water, cornstarch, and sugar. Heat this mix until it starts boiling and keep stirring until you see it thickening up, usually takes about 2 minutes.

Take the saucepan off the heat, then add the gelatine and stir it in. Let this mixture sit and cool for about 15-20 minutes.

Next, take the pre-baked pie crust and fill it with fresh strawberries. Pour the cooled gelatine mixture over the strawberries, then cover the dish with plastic wrap and let it cool in the fridge until it sets (at least 4 hours).

If you like, add a topping of whipped cream before serving.
Notes
Use a pre-made pie crust for convenience or try a homemade one for a personal touch.
When blind baking the crust, use parchment paper or foil with pie weights or beans to prevent it from puffing up.
Make sure to fully dissolve the cornstarch in the water to avoid lumps in the gelatine mixture.
Select ripe and firm strawberries for the best flavor and texture in your pie.
Allow the pie to fully set in the fridge for at least 4 hours before serving for the perfect consistency.
This website provides approximate nutrition information for convenience and as a courtesy only. Nutrition data is gathered primarily from the USDA Food Composition Database, whenever available, or otherwise other online calculators.